If you're running a business, you probably have questions about navigating the Affordable Care Act. The constant generation of information (and misinformation) about its requirements makes keeping up a full-time job.
Hand that job over to us.
There's a lot to know, and a lot of decisions to be made, from determining employee eligibility to figuring out how you'll find the funds to meet these new obligations. Some employers are taking harsh measures that might look appealing in the short term but hurt business down the road—moves like raising prices, cutting employee hours, laying off staff members, or even putting the brakes on plans for growth.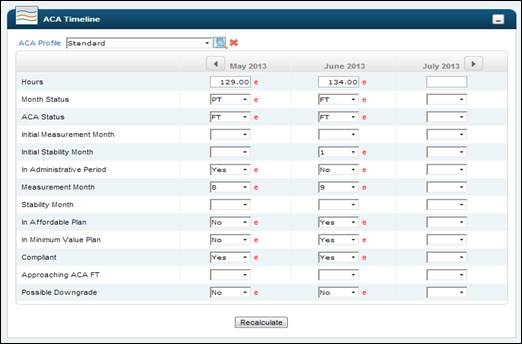 We have better ideas. Staying on top of the changes the bill brings has been part of our mission all along. And our pace-setting Affordable Care Act Module has a comprehensive, real-time reporting mechanism that provides the data and reports you need to easily prove ongoing compliance like homegrown reports and manual calculations just can't.
Access real-time and historical detail on ACA status measurements for your company and for individual employees. Management dashboards provide consolidated views of regular- and variable-hour labor pools and the ability to drill down into views for each employee. 

Receive compliance notification when an employee's status changes to full time or part time, when an employee is approaching eligibility, and when an employee has scheduled hours that would put him or her over the eligibility limit.
Rely on one single platform for HR/benefits administration, time and attendance, and payroll. One record for each employee means you streamline and automate the benefits enrollment process as employees reach eligibility.
The ACA Module is the first solution to the compliance problem, and we can show you how it enables proactive management of your compliance strategy, offering the reporting and benefits tools that the ACA makes essential. We can simplify your transition and keep you focused on your business.
Avoid costly decisions, mistakes, and fines. Talk to our team of experts to find out how we ensure that you're up to date and compliant despite some very thorny new issues.
If you'd like to learn more about what the Affordable Care Act might mean for your business, check out this video explaining what you should know from an information, technology, and overall compliance viewpoint.