Human Capital Management Solutions for Financial Services
Axiom and UKG provide customized human capital management solutions to help your organization continue to protect your customers' financial future. We can assess your Human resource programs and technologies and design custom solutions that allow you and your people to thrive.
Whether you are tracking traffic through your branches, assessing customer service, or gauging performance — we're committed to provide innovative HR and workforce management solutions designed to meet the unique challenges of the financial sector. Our solutions can enhance your member experience and empower your employees with real-time service data. We help you combat compliance concerns to avoid heavy fines and sanctions.
A custom solution that includes effective and simple-to-use HCM technology can ease the burden on HR professionals. Making workforce management tasks such as timekeeping and scheduling, leave management or payroll more seamless for you makes it easier on your staff. And this directly impacts employee engagement, quality and productivity.
UKG Lobby
When account holders visit your branch lobby, they want a frictionless experience. However, traditional processes often get in the way. Are wait times clearly and accurately being communicated to visitors? Can your staff monitor and respond to customer service levels — in real time? Experience insights you've never had before by capturing, measuring, and managing all of your critical branch data
Banking Scheduler
Scheduling branch staff is a complex, time-consuming task that directly impacts your service — and your earnings. UKG Banking Scheduler enables you to schedule staff based on forecasted traffic at each branch — while taking into account individual employee skills and availability — so you can better balance account holder service with operational efficiency
Banking Analytics
As credit unions transform their branches to meet evolving account holder needs, the ability to optimize service while controlling staffing costs is more critical than ever. UKG Banking Analytics provides in-depth business intelligence to drive more effective branch staffing decisions for improved productivity and account holder service.
HCM Trends in Financial Services: Axiom Can Help
Scheduling Made Simple
Streamline scheduling and put the right people where they're needed most — when they're needed most. Scheduling is one of the most complex, dynamic and taxing tasks vital to the successful operation of your organization and driving better business outcomes. With Ultimate Kronos Group Ready™ Scheduler (formerly Kronos Workforce Ready® Scheduler), automatically generate schedules that are the best fit for your organization.
Especially in these times of hiring challenges and increasingly higher turnover rates, our solution can take the guesswork out of scheduling to support your people in a more impactful, actionable way and help them balance their life-work experiences.
With Axiom and UKG:
Intelligently schedule workers to meet fluctuating production demands
Have real-time visibility into accurate people data, budget constraints and staffing demands
Gather insights from dozens of pre-loaded sales and service reports to drive up branch revenue
Ready to Learn More?
If you're challenged with putting out daily fires and juggling myriad responsibilities while still finding time to play a strategic role in your organization's success, you may be ready to explore our Human Resources Outsourcing Services.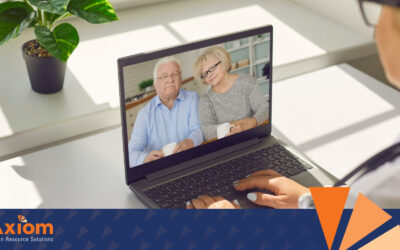 The Use of Technology in Senior Living Has Risen Steeply During COVID-19 Providers of senior living services across the nation are investing far more dollars in technology in...
read more