Keep time accurately and efficiently. No matter which data collection device you use, we can bring you the services and software that tailor the information so that you get exactly what you want, instantly.
Traditional barcode, magnetic, proximity readers, or even biometric identification devices–any time collection method you choose can be brought in to our system. Take a look at some of the options we offer.
The Kronos InTouch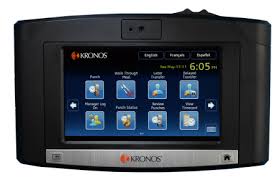 Designed for today's cloud-centric computing, InTouch simplifies time-keeping and makes your records accessible anytime, anywhere. We particularly love this option for its intuitive touch screen, durable design, and ability to be customized. It brings more to the table than that, though:
7-inch touch screen with full-color LCD

Optional biometric verification
Support for all major badge formats, including a new smart card reader
SSL encryption for top-notch security
Battery pack for power outage protection
Multilingual capability on per-employee basis
Live support at the touch of a button
With minimal training (which we provide), your entire operation can begin utilizing the device that's reshaping the way time gets managed.