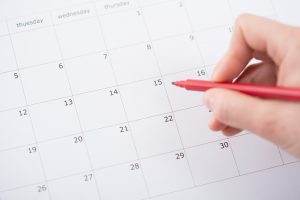 November and December can be hectic months. With open enrollment upon us, the end of the year on the horizon, and the holidays taking an extra bite out of our schedules, the more items you can cross off of your to-do list, the better. With that in mind, we thought it might help to mark these upcoming deadlines on your calendar.
November 15
By Tuesday, November 15, self-insured health plans must submit their 2016 Transitional Reinsurance Program (TRP) form, as well as select a payment schedule. November 15 is also the due date for those who elected to make their 2015 TRP payments in two installments.
December 1
By Thursday, December 1, provide these annual notices as part of open enrollment:
Children's Health Insurance Program (CHIP)
Women's Health and Cancer Rights Act (WHCRA)
Summary of Benefits and Coverage (SBC)
HIPAA Notice of Privacy Practices (at least every three years)
December 15 
By Thursday, December 15, be sure to provide a summary annual report (SAR) to participants—if the 2015 Form 5500 was filed by extension October 17, 2016. The SAR must be provided two months after Form 5500 was filed, for non-calendar-year plans, including by approved extension.
If you have questions or need additional guidance on these or other compliance issues, contact your Axiom advisors today.