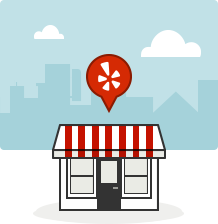 If you're like me, you consult YELP for pretty much everything you do in life…OK, maybe that's just me. Anyway, YELP is a great resource for deciding where you want to go. Whether that is for food, drinks, attractions or an HR, timekeeping, and payroll provider, it is so easy to get an outlook on a business based on their page.
According to Invesp, 90% of consumers will read online reviews before visiting a business. This is HUGE, so why wouldn't you take the time to manage your online reviews? Personally, if I see a business with less than 4 stars, it starts to throw up some red flags for me. This applies to other consumers as well, being that 92% will use a local business if it has at least a 4-star rating. So how can you manage and ensure the right people are leaving reviews?
First off, your business needs to encourage positive reviews. Obviously, this will start with having a stellar product or service. You want customers to WANT to leave a positive review because they love what you are offering. Also, links to your YELP page via social media and website will further push your top customers to review their experience.
You can essentially build your whole brand on YELP. Making it a regular part of your weekly workflow will allow potential customers to experience your business before they decide to visit. If they don't like what they see, they won't come. But honestly, what are the chances of that? Your business is AWESOME!
Now, there is always a user on YELP that has nothing but bad things to say about every place they visit. It is quite comical if you investigate their past reviews and it's nothing but bashing…Some people just have high standards? Or maybe, they are just negative nancies…Yeah, I'll stick with the latter. Sometimes negative reviews are inevitable. A customer may have a less than ideal experience but responding to those reviews is key for managing your YELP page. This will show a high level of customer service and may present the opportunity for that customer to return and be swooned by your business!
Obviously, the industry your business is in will determine the type of traffic you get. YELP is geared towards services, but this doesn't mean you should be absent if your business doesn't fall in those categories. Take the time to manage your YELP page, because you never know what type of potential customers you could attract.
What a coincidence that you've been YELP'ing for an HR, timekeeping, and payroll provider. Look no further! Contact Axiom HRS today at hr@axiomhrs.com or check out our Yelp page by clicking here. If you enjoy our service, please leave us a review!