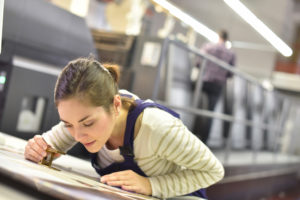 Keeping workplaces safe and healthy is not just good for employees—it's good for business. Healthy employees perform better and are more productive, and safe employees have lower benefit costs and workers' compensation claims.
Tracking injuries and illnesses helps everyone—companies, employees, regulators, and consumers—know just how safe our workplaces are and when new training, procedures, or equipment may be needed. But opinions differ when it comes to deciding policies that guide such tracking, and in the changeover from one presidential administration to another, these policies have become subject to change. Recent votes by the House and Senate have reduced the legal responsibilities for companies to record incidents of injuries and illness in the workplace.
As part of its broader mission to ensure workplace health and safety, the Occupational Safety and Health Administration (OSHA) requires employers to keep records of worker illnesses and injuries. As part of the law requiring these records, employers could be fined if their logs were found to be inaccurate or fake. But in 2012, a U.S. Court of Appeals ruling held that those fines should be limited to those inaccuracies occurring six months prior to inspection. In other words, if an employee had an accident in January that wasn't properly recorded, and a safety inspector didn't find out about the omission until July, OSHA would have no recourse to penalties.
OSHA wrote up a new rule in December of 2016 that restored the five-year requirement, but Congress's action this month repeals it.
According to David Michaels, a former head of OSHA and now a George Washington University School of Public Health professor, there are not enough safety inspectors to catch discrepancies in a six-month window. In the wake of the 2012 ruling, he reported, citations for bad record-keeping dropped by 75 percent.
A letter from two former Bureau of Labor Statistics commissioners—one under President George W. Bush, the other under President Barack Obama—had urged senators not to repeal, warning that it would negatively impact the collection of accurate injury data and put responsible employers at a disadvantage.
The resolution's sponsor in the House, Rep. Bradley Byrne, R-Ala, said the five-year rule does nothing to improve workplace health and safety, and that he would rather see OSHA's time and resources spent helping small- and medium-size business improve their health and safety procedures to prevent incidents from occurring in the first place.
The legal landscape may be shifting, but ensuring employee health and safety is still sound business practice. It's a good idea for employers to regularly evaluate their workplace safety risks and policies and ensure that they're up to date.
If you need advice about evaluating the safety of your workplace, or about staying in compliance with the latest rules and regulations, please contact one of our Axiom HR experts.