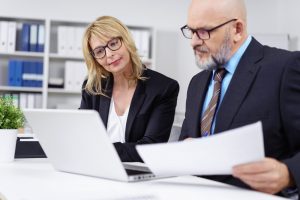 We all know that age is relative. Except, of course, when it comes to government regulations. But a recent ruling by the Third U.S. Circuit Court of Appeals seems to agree that age isn't an absolute, at least when it comes to discrimination claims filed under the Age Discrimination in Employment Act (ADEA).
The ADEA prohibits employment discrimination against persons 40 years of age or older. In "disparate treatment" cases—those based on termination, demotion, failure to promote, failure to hire, unequal pay, and hostile work environment—an employee must show that, but for intentional age discrimination, an employer would not have made its employment decision adverse to the employee. But can discrimination be found in cases where disparate treatment affected only people over fifty?
In the past, circuit courts have ruled against so-called "subgroup" claims. But the Third Circuit's ruling, in a case involving an automotive glass manufacturer in Pennsylvania, creates a circuit split, one which may ultimately result in the Supreme Court resolving the issue.
Beginning in 2008, facing flagging sales, Pittsburgh Glass Works LLC (PGW) started laying off employees to offset their losses. After one such round of layoffs, seven employees—all of them over the age of 50 at the time—filed charges of age discrimination with the Equal Employment Opportunity Commission (EEOC). The plaintiffs' claims of disparate treatment (as well as disparate impact, a different type of age discrimination covering employer policies with a significantly greater impact on employees over 40) were dismissed by a district court due to previous rulings barring application of the law to "subgroups."
The Third Circuit Appeals Court ruling found that the ADEA prohibits age discrimination as a whole, not just discrimination against employees ages 40 and over. Thus, the court explained, the plaintiffs in the PGW case should be permitted to claim that they were treated less favorably than younger employees, even when those younger employees included others within the ADEA's protected class.
The ADEA differs from other federal anti-discrimination statutes in protecting age, an ever-changing characteristic, rather than a fixed group identity such as race or sex. Employers therefore have certain defenses not available under other laws. However, they are also subject to new and distinct types of claims—ones that require careful consideration to avoid liability. Employers should be especially mindful when making decisions, such as layoffs, that affect any such group of employees.
If you're wondering how to safely make decisions that affect groups of employees, we can help. Contact your Axiom representative for advice to help you and your organization stay fair and compliant.