Due to the increasing immigration enforcement coming from the current administration, Form I-9 audits are on the rise.  According to a recent article published by the Society of Human Resource Management (SHRM), I-9 employment eligibility verifi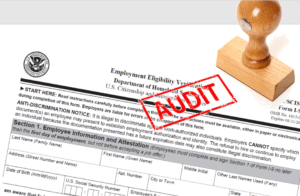 cation audits will significantly increase in 2018 and employers that are not in compliance can face large civil and/or criminal penalties as well as the loss of licensing or government contracts.
The Form I-9 is a federal form that verifies the identity and employment authorization of individuals (citizens and non-citizens) for employment in the United States. Most everyone has seen the Form I-9 because it must be completed by both the employee and employer.  As with most government forms, it can be confusing and intimidating especially because it has 15 pages of detailed instructions.  The instructions are very specific on how to complete the form, down to requiring the date be written as a 2-digit month, 2-digit day and 4-digit year.  It's easy to be out of compliance when it comes to the Form I-9 which is extremely problematic since audits are commonplace these days.
Most Form I-9 audits are carried out by the U.S. Immigration and Customs Enforcement (ICE), however; the Department of Justice's Office of Special Counsel (OSC) for Immigration-Related Unfair Employment Practices and the U.S. Department of Labor also have the authority to conduct audits.  Any of these agencies can show up at your business and serve you with paperwork ordering you to provide your I-9 forms and other related documents for inspection.  If you are subject to an I-9 audit, contact your attorney immediately so they can review the order and advise you as to the scope of the audit and how to proceed.
Axiom recommends performing an internal I-9 audit each year to be prepared in case of a government agency audit.  The frequency of your internal audit should depend on your company's rate of hiring.  Smaller companies with few staff changes may not need to conduct an internal audit each year whereas large companies that are constantly hiring may want to self-audit more frequently.
ICE published a great document that offers guidance on conducting an internal I-9 audit, Guidance for Employers Conducting Internal Employment Verification Form I-9 Audits.  This publication also explains how to make corrections to I-9s and remain in compliance.  Another great resource is the U.S. Citizenship and Immigration Service's (USCIS) website, I-9 Central which contains information and answers to questions about the Form I-9.
If you need assistance completing your Form I-9s correctly or self-auditing your I-9s, contact Kelly Mead, Director of HR Services at 317-587-1019.