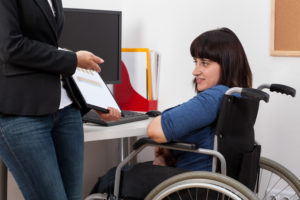 "So much of what we call management consists in making it difficult for people to work," said management consultant Peter Drucker. Which is a bit unfair, because a good manager often has a tough balance to strike between organizational success and employee satisfaction. Still, the least we can ask of ourselves as managers is to not make our employees' work more difficult than it needs to be.
A case making its way through the courts shows one instance where managers failed to meet this benchmark. And it's a good reminder to managers at all levels that they have certain responsibilities to their employees, as well as the law.
The plaintiff, a relationship manager with Capital One in Illinois, had gained weight after four surgeries to fix a kidney issue, in part due to medications related to his condition. The kidney medications had also triggered a problem with body odor. The plaintiff had requested accommodations from Capital One HR, including an office away from co-workers, which were approved. But the HR-approved request was denied by the plaintiff's managers. The plaintiff also alleges that he was harassed by managers and co-workers about his weight and his odor.
The complaint was brought on August 16, 2017, and the outcome remains to be seen. Experts in disability and employment law, however, have been talking about the case. = Body odor alone isn't typically covered by the Americans with Disabilities Act (ADA). But the plaintiff's kidney condition, if found responsible for his strong body odor, arguably would be, said David Fram, director of ADA services for the National Employment Law Institute in Golden, Colorado.
Furthermore, if a person's obesity is caused by an underlying medical disorder that substantially limits a major life activity—like breathing or moving—then it is covered by the ADA, according to Jonathan Mook, an attorney with DiMuroGinsberg in Alexandria, Virginia.
The determination of HR in the employee's favor was also important, said Fram. "Not providing a reasonable accommodation is the same thing as discrimination," he said. "It's part of a manager's job responsibilities to comply with the law."
If managers don't comply when HR has approved reasonable accommodation requests, HR should remind managers that their job performance is rated based on compliance with the law. If managers push back that an accommodation is unreasonable or burdensome, HR should make sure that managers supply evidence of undue hardship, said Joan Casciari, of law firm Seyfarth Shaw in Chicago.
Managers who deny HR-approved accommodations without working with HR expose their organizations to potential liability. For their part, HR should be clear to managers that accommodations are made on a case-by-case basis.
Have more questions about disability accommodations or ADA compliance? Contact your Axiom Human Resource Solutions team.