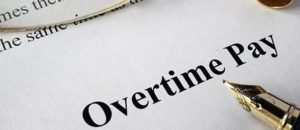 An estimated 1.3 million workers will now be compensated for putting in longer hours! The U.S. Department of labor just passed a new minimum yearly salary amount that will allow more employees to be eligible for overtime pay. The previous rule which stated that any worker earning a salary under $23,660 per year would be eligible for overtime pay for hours worked in excess of 40 in a workweek. The Department of Labor has increased this threshold to include anyone making under $35,568 per year that will become effective January 1, 2020.
Employees who fall under this salary cap must also meet certain duties tests under the Federal Fair Labor Standards Act (FLSA). There are three standard so called "white-collar exemptions" that each have different duties:
Executive Exemption: The primary duty must be managing the enterprise. This employee must also regularly direct the work of at least two employees and be able to hire and fire.
Administrative Exemption: The primary duty must be office or non-manual work that is directly related to management or general business operations. The employee must also exercise independent judgement.
Professional Exemption: The primary duty must be work requiring advanced knowledge.
This may prompt some vast changes in the workplace including who is classified as exempt and non-exempt. Pay raises may be made to put people over the new threshold. Nancy Hammer, SHRM's Vice President says, "employees and employers have been waiting for an overtime salary adjustment for over 10 years" and "today's rule provides important clarity for the workplace on FLSA implementation."
So, what does this mean for employers? First, employers should find all exempt employees that are earning less than this new threshold. Restructuring of positions and pay levels needs to be on the list of every employer as well as when these implemented changes should take effect. The restructuring should be done by weighing the cost of raising an employee's salary above the new threshold vs the cost of entirely reclassifying that worker as non-exempt and paying them overtime.
For some companies, systems for tracking time keeping and overtime may not be in place. Implementing these things as well as training those new non-exempt employees will be a high priority and save you money down the road. If this is your business, give Axiom a call and we would love to discuss our Time and Labor Management software with you!